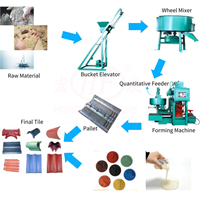 HFT536 Color Roof Tile Machine plant ( the double Roman roof tile size is 420*330mm)
| | |
| --- | --- |
| Main forming machine(Include PLC)/主机 | 1set |
| PLC automatic control system /PLC控制系统 | 1set |
| Hydraulic system / 液压系统 | 1set |
| Main tile mould / 主瓦模 | 1set |
| Lifting and mxing system / 提升系统 | 1set |
| Dosing mixer / 搅拌机 | 1set |
| Main tile pallets / 主瓦托板 | 2000pcs |
| Plastic diaphragm / 主瓦托板专用膜 | 2000pcs |
| Round ridge tile pallet / 圆脊瓦托板 | 30pcs |
| cornice tile pallets / 詹口瓦托板 | 30pcs |
| Round ridge tile making machine / 圆脊瓦制造机 | 1set |
| Cornice tile making machine / 詹口瓦制造机 | 1set |
| Drain tile mould / 水沟瓦模 | 10pcs |
| T three-way round ridge / T三向 | 1pc |
| Y three-way round ridge / Y三向 | 1pc |
| Oblique ridge seal / 斜脊封 | 1pc |
| Round ridge seal / 园脊封 | 1pc |
| Cornice seal / 詹口封 | 1pc |
| Four-way mould / 四向模 | 1pc |
| Air pump(0.9CBM)空压机 | 1 set |
| Spare parts易损件 | 1 set |
| Coloring painting machine/395喷涂机 | 1 set |
This kind of Machine adopts PLC controlling system, full-hydraulic press and pneumatic to shape. Shaping quickly and dependable parameter, high productivity, high quality and competitive price. Adopts pressing and filtrating concrete to shape. Having various kinds of finished product types and beauty in structure, high density and strength, precision size, can satisfy all requirements of the construction. It serves several purposes and produces all kinds of main tile, ridge tile, cornice tile, slot tile and so on through changing molds.
It also can produce terrazzo tiles just change the mold , size 400*400/500*500/600*600mm .
Ⅱ Main Technical Parameter:

Productivity

7-9 pcs / min; 4000pcs per shift(8hrs)

Building area

150 ㎡

Care area

60 ㎡ (600㎡ if no the shelfs)

pressure

150T /180T /220T (according the required )

Oil pump

7.5kw

Total power of the line

20kw

Working voltage

380v

Mold lifetime

800-900 thousand times

Tile machine outsize

3100×1600×2600mm

Tile Machine weight

5000kg

Tile specification

stander tile size 420*330mm

Employee

3-4 workers

Raw Materials

cement, sand, water.